Team WILD Swimrun West Coast with Evelina Järvinen and Therese Bergling competed in their first ÖTILLÖ World Championship this year and did a remarkable performance, we are so proud! Read the story and find out about their adventure.
June 2021
Therese texted on Thursday: "what's up for Sunday, wanna race at ÖTILLÖ Utö?" Evelina "Don't know if I dare, but what the heck, let's do it"
First ÖTILLÖ competition for both of us, also first time racing together. On the road trip to Stockholm we're talking about the women's lineup, excited to be among all these strong women we've seen in the community of swimrun.
And bam. The race comes off and as we exit the first swim as top three we have some thoughts like "this is crazy". The adventure continues and we both seem to have a good day out there, with highs and lows of course, but all the time pushing each other. In a teamsport like swimrun, communication is key! At the island before the last swim to the finish line we are giggling and jumping in the trails, realizing that we will be on the podium as the second team. Stoked and out of words afterwards, just one sentence in mind "we dared to race and now we're going to ÖTILLÖ, The Swimrun World Championship".
The day before the big race
On Sunday morning, we met up with some friends and fellow athletes and took the train from west coast to east coast – Gothenburg to Stockholm. We arrived in Stockholm around lunch time and spent some time in the sun before heading towards the bus and Djurönäset. At Djurönäset, it felt like everything happened at 100 kilometres per hour. Hotel check in, race registration, photo session, interview, race briefing, dinner and then final gear and nutrition prep. Excited, but not nervous, we fell asleep with hair braided and ready to race.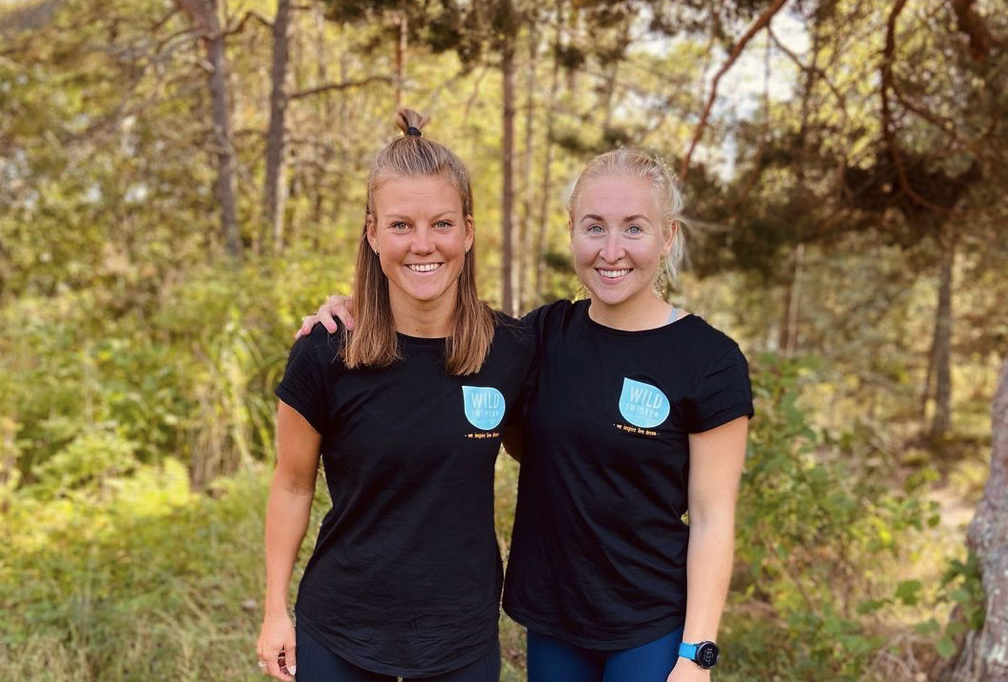 The race
Our clock goes off at 3.30 am. Wetsuits on and headed for breakfast. Dressed for success in our black ARK suits – Evelina in KORP and Therese in UTÖ. Last gear check, we are starting from top to bottom. Swim cap, googles, neoprene headband, wetsuit, sleeves, kangaroo top, nutrition, first aid kit, paddles, tether, pull buoy, timing chip, shoes. We're ready!
We jump on the ferry to Sandhamn. Before we know it, we are standing in the start box and waiting for the start gun to fire off. The sun is rising and the sky is so beautiful. Everyone around us is sprinting towards the first swim, but we stick to our plan and are running at a controlled pace. Approaching the first and longest swim of the day, 1750 metres, we attach our tether (which isn't allowed during the first run). Therese is leading the way during the first swim. The water temperature is around 14 degrees Celsius, but with the neoprene headband and long sleeves, we are not cold. We had planned to draft on faster teams during the long swims, but there was almost a fight about positions in the water. To avoid any problems, like lost goggles or paddles from "position fighting", Therese chose to abandon the drafting plan and to swim undisturbed. While other teams sick-sacked themselves forward to get drafting advantages, we focused inwards and just headed straight to the strobe light.
Getting up from the first swim, we make an excellent transition and only have a few women's teams ahead of us, all strong swimmers. But these first islands offer very technical running – and this is in our favour. We are flying on the rocks and passing many teams. At the second timing station, a camera team informs us that we are the second women's team, but we are sceptical and cannot really believe it.
At the energy station on the first long run at Runmarö, we see some familiar faces from Gothenburg who inform us that we are about a minute behind the leading women's team. That's insane. Those women are super experienced and legends in the sport and here we are, some happy semi-beginners, chasing them from the second position. But our mantra during the whole day was:
Nämdö is our second long run for the day. On all longer runs, we cabbed down our wetsuits to avoid overheating and to give our shoulders some relief. We believed, and still think, that it was the right move. We do not stop to cab down, we keep moving all the time which could be a bit tricky but it goes quite smoothly. Approaching the energy station in the middle of Nämdö, you meet fellow racers as you have to run down and back the same way after the station. Evelina checks her clock here; we are about three minutes behind the leading team and have five minutes back to the third and fourth team. It ain't over until it's over and still a long way to go.
Pig swim. The legendary 1400m pig swim – the most exposed and toughest swim of the day. Currents and wind are coming from west, pushing us far "to the left". Therese is leading the way through the longer swim-sections and Evelina is fighting behind. We are trying to catch the faster feet from the men's team that are passing us in the water, but they are too strong swimmers. Finally, we get up from the pig swim and receive our well-awarded chocolate bar Twix. "It was the only thing we thought about during the whole swim!" we happily shout to the nice staff handing us the candy. But during the pig swim, we became cold. We got to experience eating Twix with teeth chattering. The water temperature was not working in our favour, and now we can not feel our feet or legs. We stumbling through the terrain and getting prepared for the last long swim of the day, another 1000 meters to go.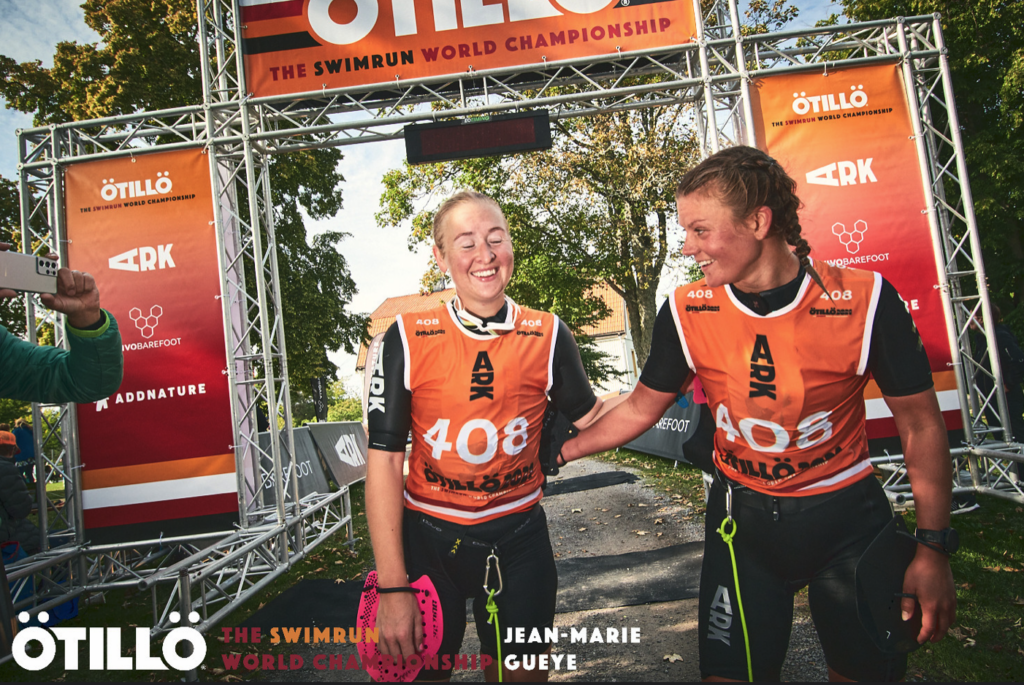 Finally arriving at this legendary island of Ornö. This is the longest run of the day, about a half marathon to run, in wetsuits after almost 50 km of swimrun. No biggie, right? We are cabbing down our wetsuits, taking off neoprene headbands and sleeves and filling up on energy as we've done throughout the course. Salty liquorice fishes at Ornö church tasting really good after all the sweet gels. We are running at a controlled pace as planned. Then, Therese has our team's first energy dip after about six hours of racing. Evelina takes commando during the dip and leed our way forward. After about seven hours, the roles are switched, but we make it through. We are passing several men's teams at Ornö, which give us a confidence boost. We are feeling strong!
Looking back after the race, we noticed that we had the fastest women's team split on Ornö. It felt very good that we succeeded with pacing ourselves during our first ÖtillÖ World Championship and that we could show everybody that we also have great endurance and stamina.
After Ornö, there's only about 8 km of swimrun left. No more sleeves or neoprene headbands feel necessary. We are warm and prefer to go without sleeves. The last parts include a lot of technical jumping on cliffs, which we normally enjoy, but our legs are now so stiff after more than 8 hours of racing so we cannot go as fast as we want. After 5 km of island jumping, we finally reach Utö. Only 3,5 km of gravel road left and we count down. 3 km. 2,5 km. 2 km… We start to recognize the area. We pass by the tennis court. A camera team, friends and other spectators are following and cheering us on during the last hill. What a joy, it feels like a dream having such support!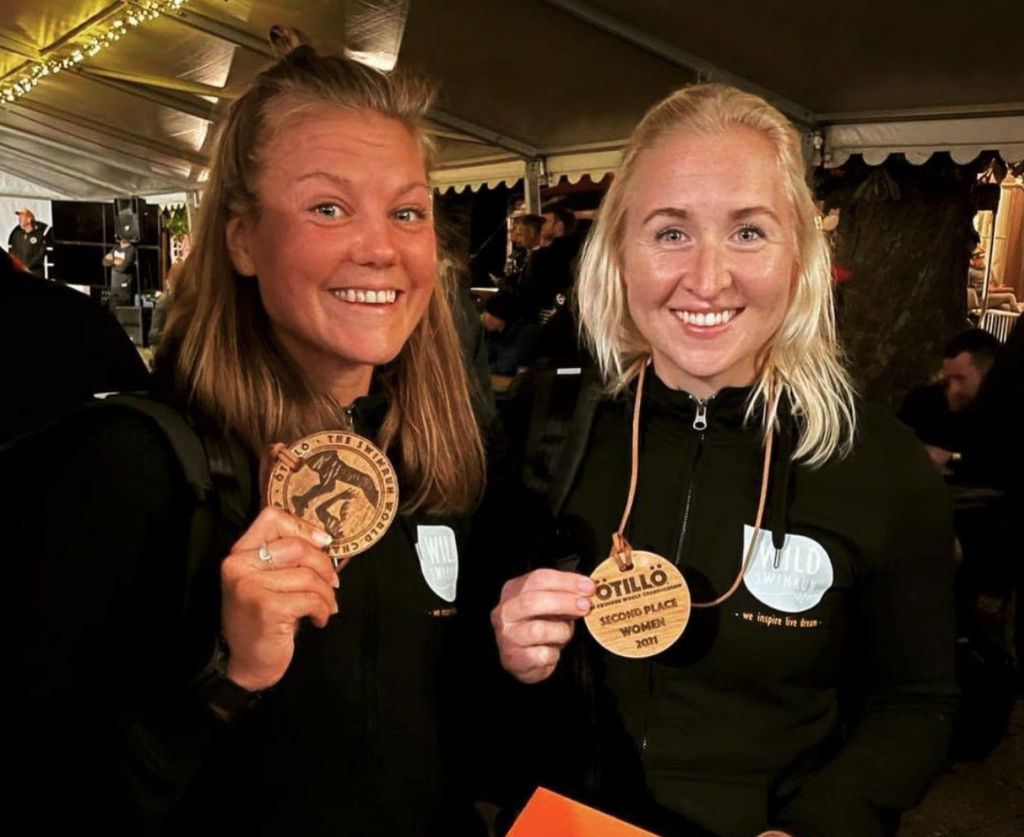 We are crossing that finish line. Smiling, laughing and happy tears streaming after a 9 hours, 11 minutes and 27 seconds long adventure. Runner-ups at the Swimrun World Championship and only about 10 minutes after the legendary winners. Sixth best Women's time at ÖtillÖ World Championship, ever. Who could have believed this? Anything can happen and it ain't over until it's over.
/Evelina and Therese